As I've written before, I love interactive dog toys! (And so does my dog.)
I think they're a great way to challenge your dog and break the
monotony of boring daily routines. Dogs need toys to provide mental stimulation, allow for appropriate chewing, and serve as important tools in behavior modification. Toys are mentally and physically stimulating and assist in fulfilling a dog's emotional and physical needs. Even though dogs today are primarily bred as companion pets, they still need something to do. You can find dog accessories in the Chewy Store where you can find any type for your pet.
In the absence of a job, they will look for things do to occupy their time and fulfill their chewing needs. If you don't want them to choose their own chew toys, such as your sofa, pillows, or toilet paper rolls, provide them with appropriate outlets.
Most interactive dog toys were created for the purpose of "play".
I recently tried one that was created for the purpose of making everyday feeding time more enjoyable for your dog.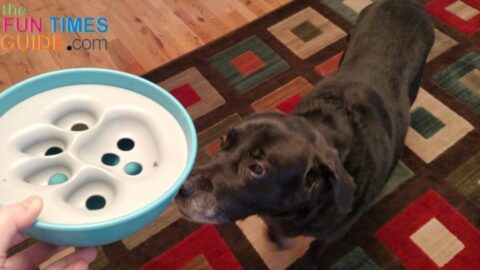 It's called the Rock & Bowl Puzzle Feeder.
Read more: PAW5 Rock 'n Bowl Review: It's A Slow Feed Dog Bowl & Interactive Puzzle Toy For Dogs!